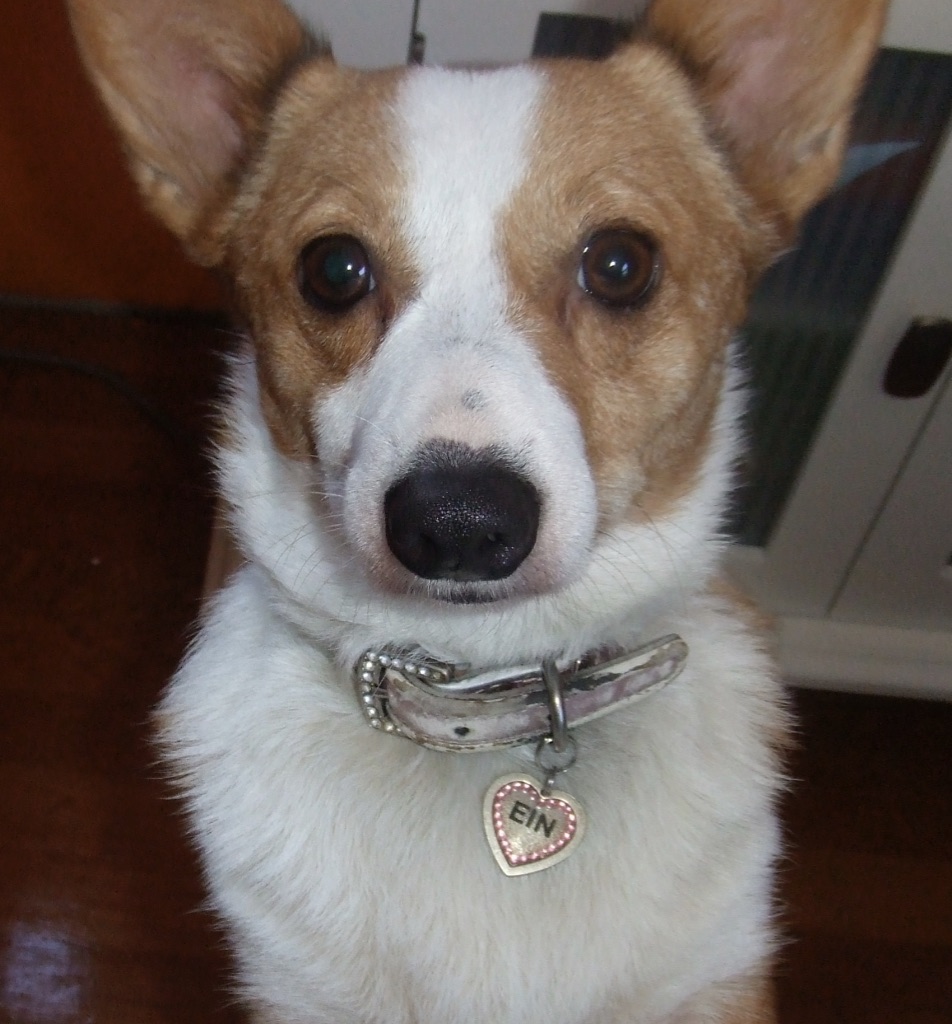 The best picture I ever took of Ein.
About one year ago, on Monday, November 19, 2018, I said goodbye to my dog Ein. Ein was my Corgi and the original inspiration for naming my company Corgibytes. I want to take a few minutes to tell you about Ein, what she was like as a dog, how she touched my life, and how sorely she'll be missed.
Ein Gets a Name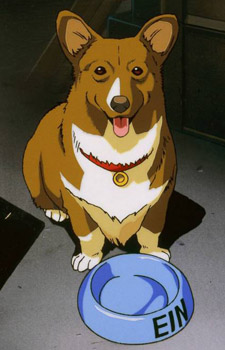 The character Ein from the show Cowboy Bebop
Many years ago, I watched the anime series, Cowboy Bebop. One of the central characters in that store is a biologically engineered, highly intelligent dog, a Corgi, named Ein. Ein's role in the show is rather humorous at times. Most of her compatriots have no idea that she's any different than a typical dog, but she can be seen in most episodes providing them with hints and guides to point them in the right direction as they try to solve mysteries.
I fell in love with that dog. It was my first introduction to the Corgi dog breed, and it was not long before I wanted to have one of those special dogs in my life.
When it was time for me to bring a Corgi home with me, I didn't think twice about what to name her. Ein was the only name I considered. It just didn't seem right any other way.
Ein at Play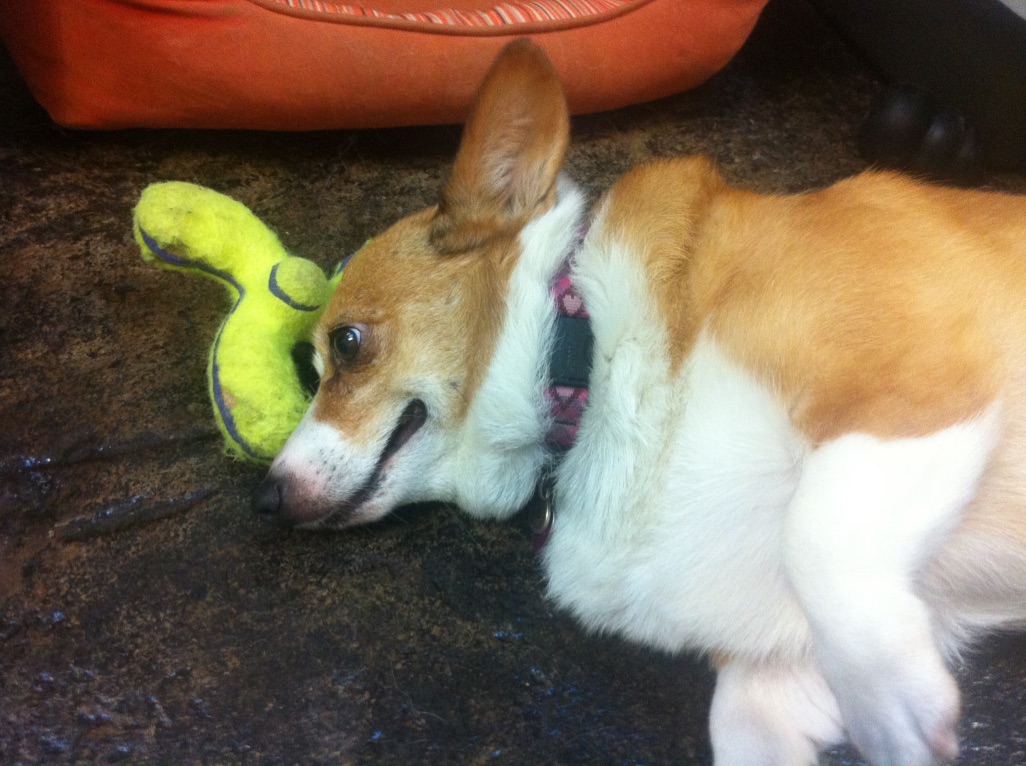 Ein with her favorite toy
In her early years, Ein was full of spunk and energy. Her perhaps favorite activity was to herd large playground balls, the kind that you can get for a few bucks from most large department stores. I kept a couple of these around the backyard and sometimes one in the house. She loved putting them back where they belonged. If you held one in front of her, she'd let out a happy, expectant, almost impatient yelp, waiting for you to either throw it into the air or down the hall.
She loved squeaky dog toys. One of her favorites was a neon green boomerang-looking toy which squeaked really loudly. She'd want you to throw it, but instead of fetching it and bringing it back to you, she'd just take it to her doggie bed and keep it to herself. She would snuggle up with it and make it squeak several times before just resting with her head up against it.
One of my favorite ways to play with her was to pet her roughly on the sides. I'd call it "daddy time" and she'd make the most adorable sounds that I called "Corgi noises." A daddy time session would always end with Ein on her belly, begging to be scratched with the cutest grin on her face.
Ein at Work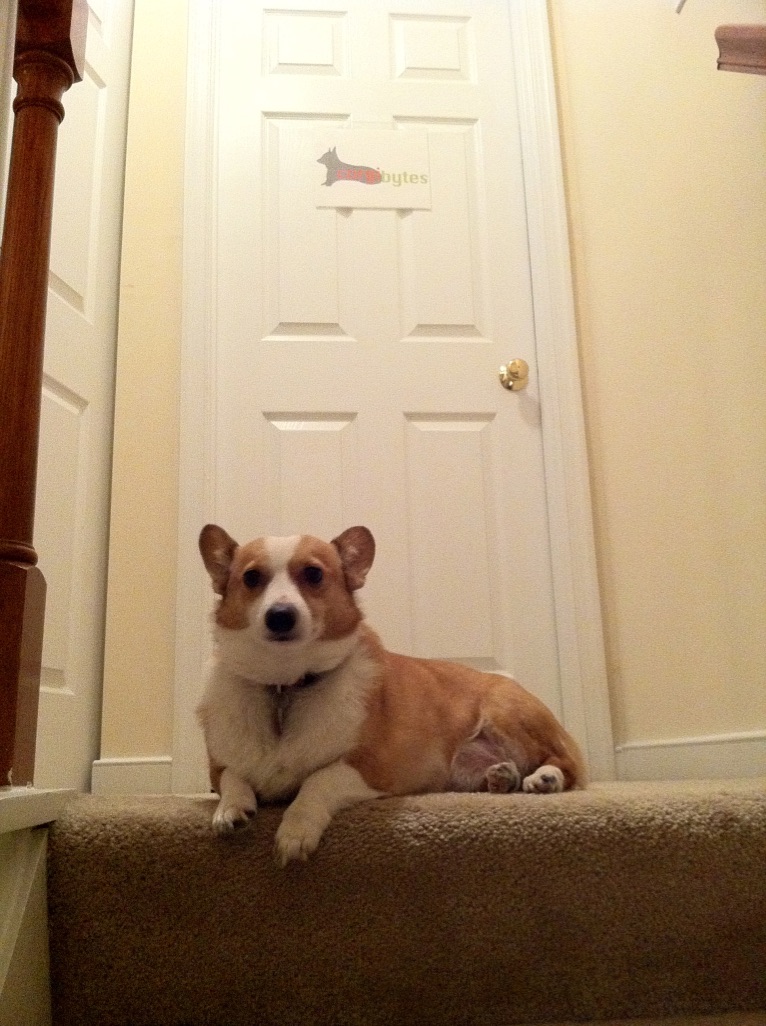 Ein sitting at the top of the steps outside the first Corgibytes home office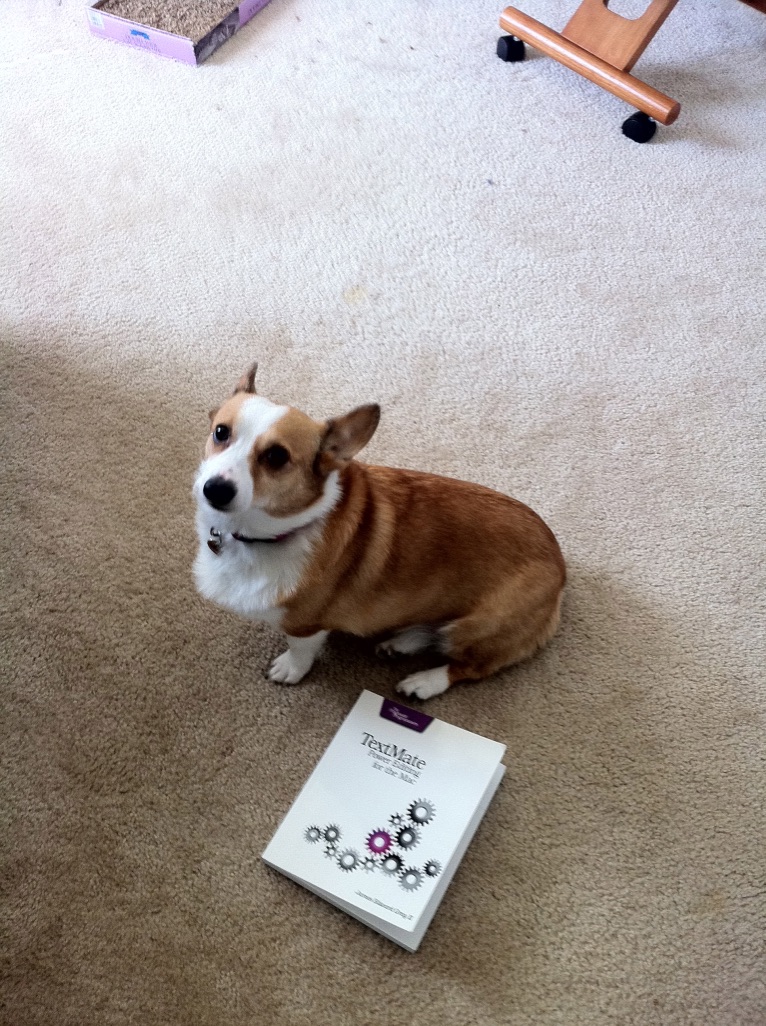 Ein posing next to a book about TextMate, her favorite text editor at the time
Back when running my own business was just an unfulfilled dream, I had a habit of staying up really late at night, writing code, and tinkering with my computer into the wee hours of the morning. Ein could always be found at my feet during those sessions; sitting quietly about a hands-width away. When I got up to get something to drink or use the restroom, she'd dutifully escort me. She kept me company during what would otherwise have been a fairly lonely activity. When I needed a break, she'd be more than happy to roll over and let me pet her belly or toss a squeaky toy across the room.
When Andrea and I got our first office, it was just a short walk from our apartment, so I got in the habit of walking Ein to work with me. During the day, she could be found lounging in her dog bed or keeping an eye out by staring out through the office's glass door. She never really barked. If she saw someone go by that she didn't like, she'd let out this low guttural growl. I always got the impression that she was sensing something about people that I was missing, and while her initial impression was never really tested, I found it comforting that I had that early warning.
If the floor under my desk was soft enough, Ein would often be sprawled out on the floor near my feet while I was happily hacking away for clients.
Ein at Rest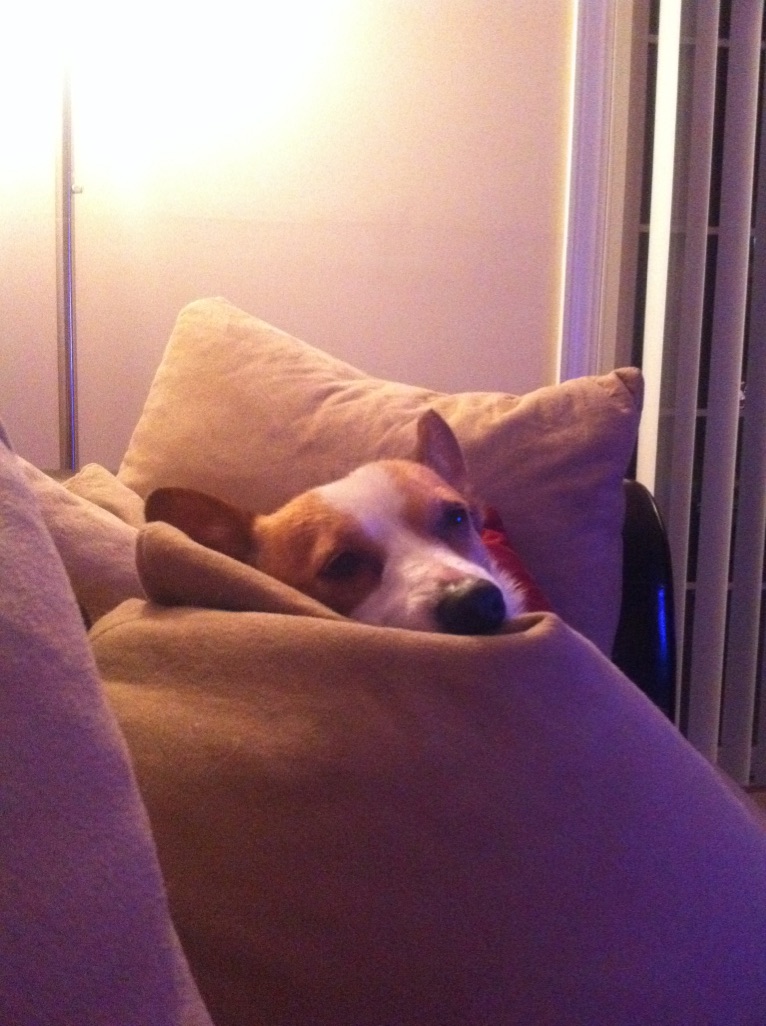 Ein lounging in the pillows that made up the back of this couch
Ein favorite relaxation spot at home was on top of cushions on the back of the couch. It didn't really matter what couch I had, she'd find a way to make that spot comfortable. I used to joke that she napped around like a cat. She was rather small for a Corgi, only about 16 pounds, which made her not that much bigger than a large cat, such as the Maine Coon cat that I used to have. The way that she would perch on the couch made her look just like a cat, and if something caught her attention, she'd sail off the couch to go investigate. Her investigative skills reminded me of the Pumba character from Disney's Lion King franchise. Ein would always want to stick her nose into whatever was going on. Two cats fighting? Ein was there to break it up. Somebody dropped something in the kitchen? Ein was there to investigate (although that may have been food motivated).
Ein in our Logo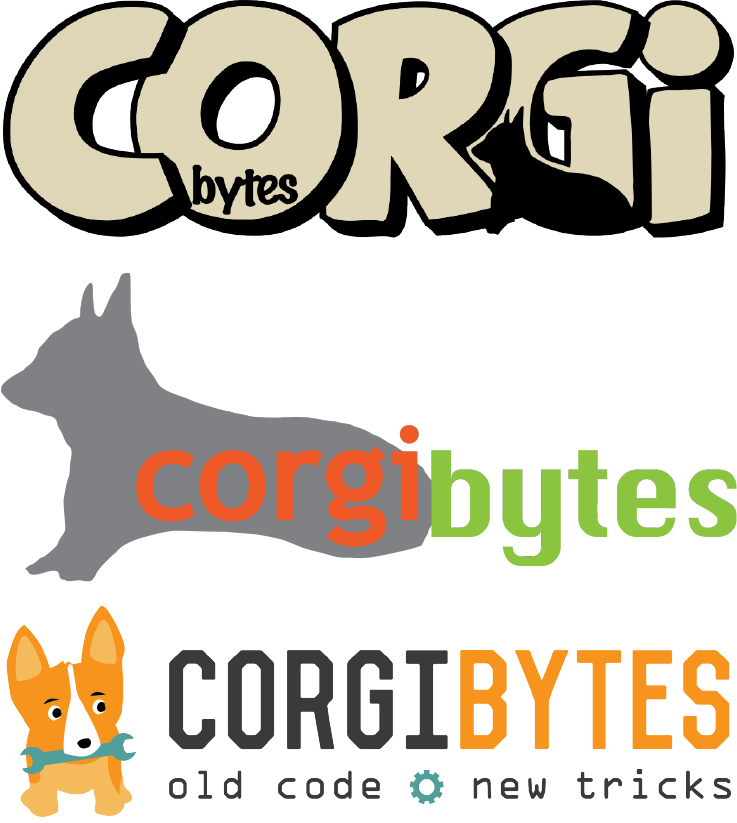 The evolution of Ein in the Corgibytes logo
I designed the very first version of the Corgibytes logo all by myself (and it shows). I created a silhouette of Ein from a picture that I took of her hanging out on the top of a couch. That same silhouette made it into the logo that my mom, a graphics design professor, created for us when Andrea joined the team. Our current logo, by Campfire and Co, was heavily inspired by the best photo that I ever took of EIn.
Every time I pull on one of our t-shirts, or look at one of our stickers on my laptop, or set up our booth at a conference, I'm reminded of all of the fun times that I spent with that amazing dog.
Ein lives on

At Corgibytes, while our physical mascot is gone, our virtual one lives on. The dog in our logo will always be named Ein. The name of our internal slackbot which helps us keep track of things like timesheets and budgets will always be named Ein. She gives us things to chat about in our breakroom.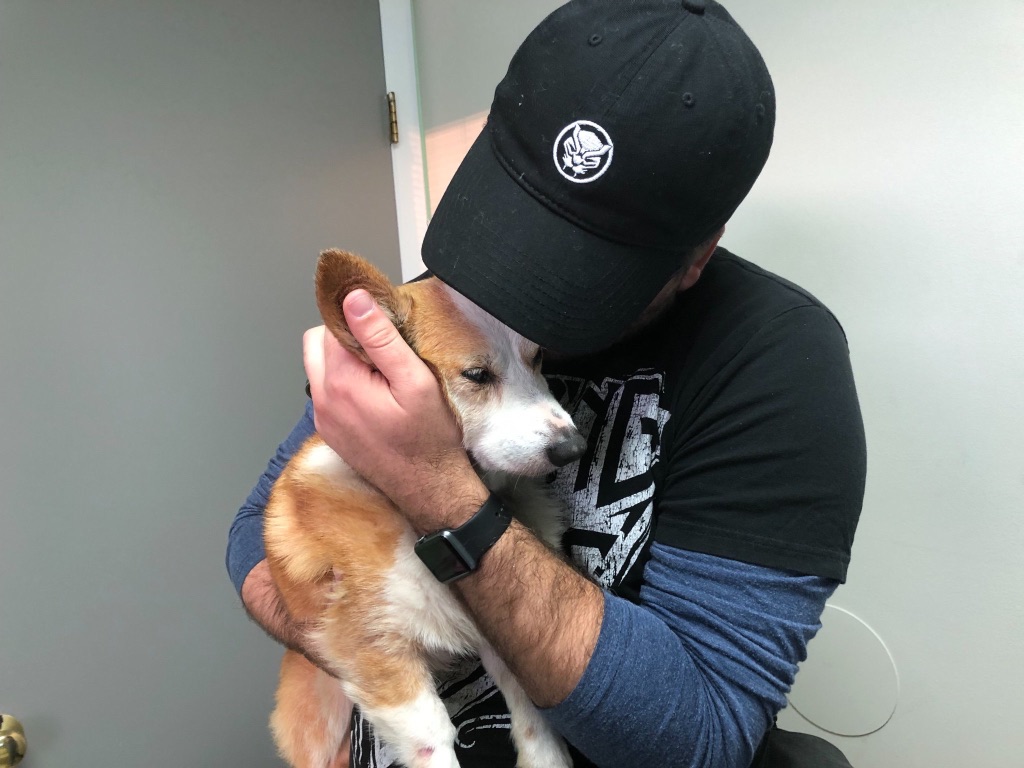 Scott saying goodbye to Ein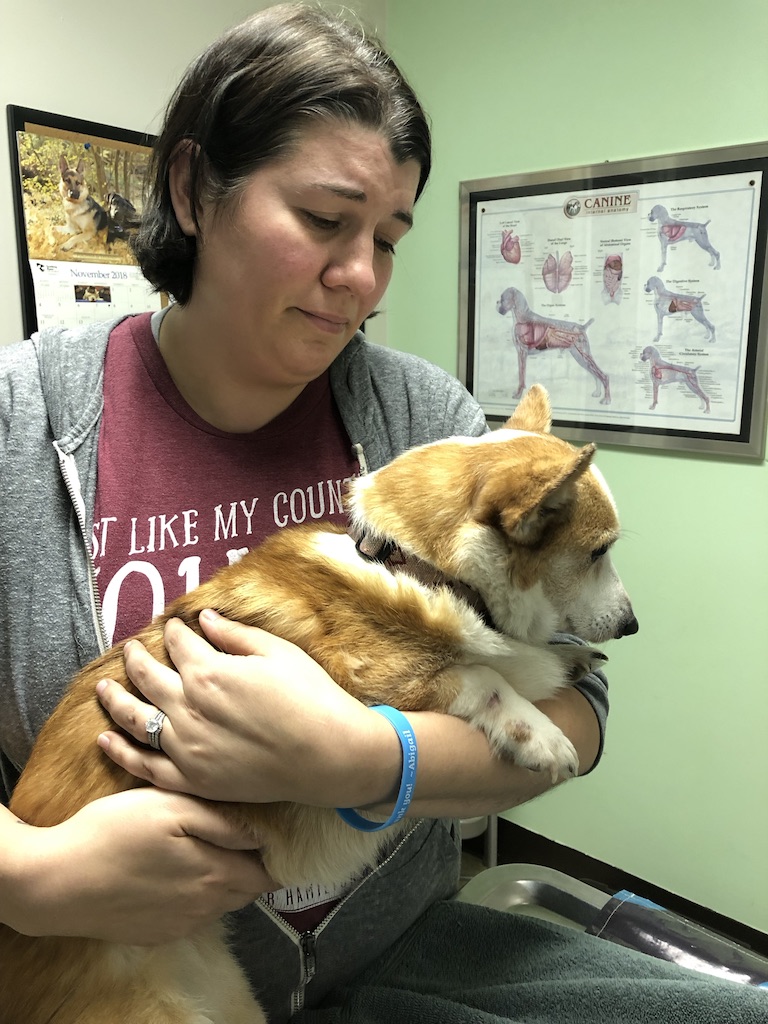 Andrea saying goodbye to Ein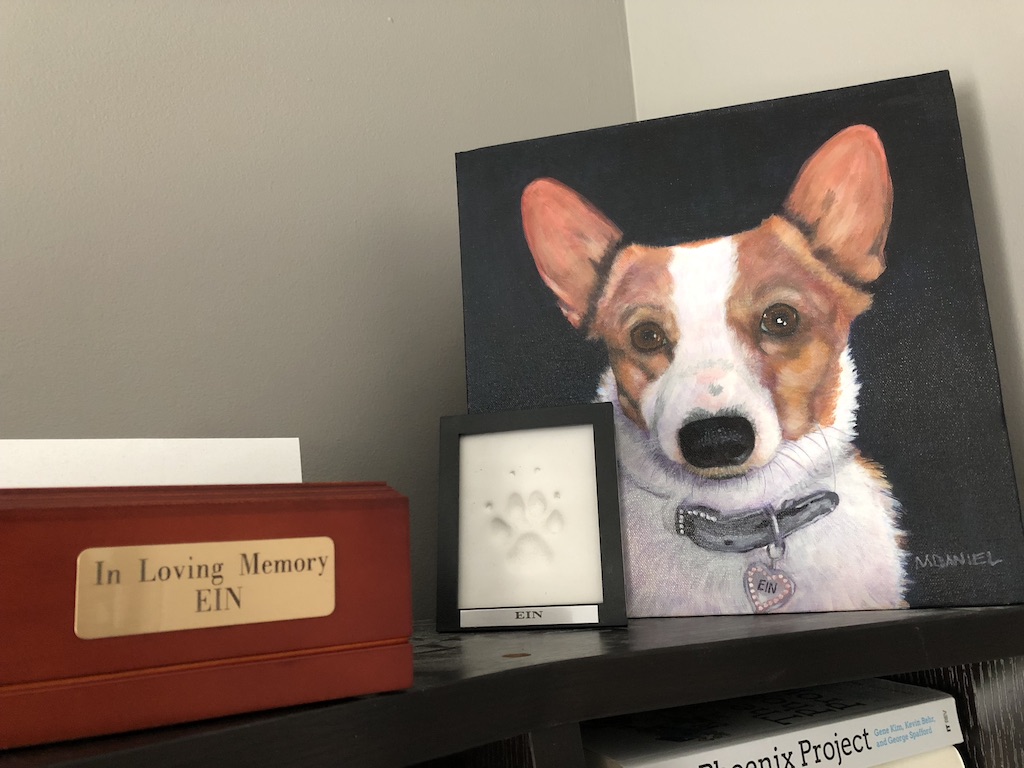 Ein's memorial on the bookcase behind my desk
Ein will always live on in our hearts, especially mine. She and I had 15 awesome years to create some amazing memories. Even a year later, I'm amazed by how much I still miss her. Thanks for letting me share some of them with you today.
Want to be alerted when we publish future blogs? Sign up for our newsletter!